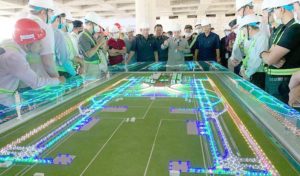 Cambodia's Techo International Airport 20 km south of Phnom Penh over 33 percent work completed
More than 33% of the construction work of the $1.5 billion Techo International Airport has been completed despite the Covid-19 crisis, officials said, adding that the work is scheduled to be finished in 2024.
The update was made on a visit by the State Secretariat of Civil Aviation Minister Mao Havannall and Charles Vann, Director of the Cambodia Airport Investment (CAIC).
Havannall said that the 4F class airport will complete its construction work in 2024 and is scheduled to commence by early 2025.
"For two years since the broken ground construction, despite facing issues during the Covid-19 period, the construction work on the new international airport has continued smoothly," Havannall said.
"Once completed, the airport will increase the country's capacity to accommodate more flights, particularly long-haul flights from other countries, bringing more international tourists to Cambodia," Havannall said.
According to the master plan, the new airport will handle 13 million passengers a year in the first phase, 30 million passengers in the second phase in 2030, and up to 50 million passengers in 2050 in the third phase.
Built over 2,600 hectares of land in Kandal and Takeo provinces, the 4F class airport is about 20 km south of Phnom Penh.
The official construction started in January 2020, and as of June, more than 33% percent of construction has been completed, Vann said.
Adding that the CAIC spent roughly $461 million on its construction.
CAIC is a joint venture between the Royal Government of Cambodia, represented by the State Secretariat of Civil Aviation and OCIC, the largest investment group and local conglomerate in Cambodia.
The RGC has granted CAIC the rights to own, design, construct, finance, operate, maintain and manage the project.
The CAIC has issued a guaranteed bond to the
public for raising funds to contribute to the development of the airport.
A number of financial institutions have invested in the CAIC bonds, which are secured by the OCIC.
Cambodia has allowed vaccinated tourists to enter the country, relaxing entry rules to facilitate travel and boost tourism, investment and trade since March 17 of this year.
With a high rate of its vaccinated population, the country resumed its socio-economic activities last November.
The country is expected to attract more international tourists in the post-pandemic era.
According to statistics from the Ministry of Tourism, the number of international tourists has seen a sharp increase of 191% to 241,485 in the January-April period this year.
Source: https://www.khmertimeskh.com/501094261/techo-airports-over-33-percent-work-completed/