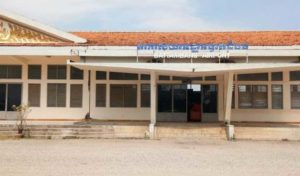 Cambodia's Battambang domestic airport revival plans mooted
After the recent announcement by a joint venture between a Cambodian tycoon and Bangkok air to build an airport in Koh Kong Province, Battambang is also looking at the possibility of reviving its domestic aviation aspirations.
A group of French investors and pilots have shown considerable interest in investing in restoring and upgrading the Battambang provincial airport because of the province's high economic potential.
The news was revealed after a meeting between Mr. Nguon Ratan, Governor of Battambang Provincial Council and Mr. Emmanuel Dias, General Manager of Airaviata (AAT) Cambodia Regional Airlines Company early last week at the Provincial Hall.​​​​​​​​​​​​​​​​​​​​​​​​​​​​​​​​​​​​​​​​​​​​​​​​​​​​​​​​​​​​​​​​​​​​​​​​​​​​​​​​​​​​​​​​​​​​​​​​​​​​​​​​​​​​​​​​​​​​​​​​​​​​​​​​​​​​​​​​​​​​​​​​​​​​​​​​​​​​​​​​​​​​​​​​​​​​​​​​​​​​​​​​​​​​​​​​​​​​​​​​​​​​​​​​​​​​​​​​​​​​​​​​​​​​​​​​​​​​​​​​​​​​​​​​​​​​​​​​​​​​​​​​​​​​​​​​​​​​​​​​​​​​​​​​​​​​​​​​​​​​​​​​​​​​​​​​​​​​​​​​​​​​​​​​​​​​​​​​​​​​​​​​​​​​​​​​​​​​​​​​​​​​​​​​​​​​​​​​​​​​​​​​​​​​​​​​​​​​​​​​​​​​​​​​​​​​​​​​​​​​​​​​​​​​​​​​​​​​​​​​​​​​​​​​​​​​​​​​​​​​​​​​​​​​​​​​​​​​​​​​​​​​​​​​​​​​​​​​​​​​​​​​​​​​​​​​​​​​​​​​​​​​​​​​​​​​​​​​​​​​​​​​​​​​​​​​​​​​​​​​​​​​​​​​​​​​​​​​​​​​​​​​​​​​​​​​​​​​​​​​​​​​​​​​​​​​​​​​​​​​​​​​​​​​​​​​​​​​​​​​
Emmanuel DIAS, General Manager of Airaviata Project (AAT), had presented the plans to invest in domestic aviation and small aircraft routes.
Nguon Ratan, governor of Battambang, welcomed and supported plans to invest in the sector, as well as revitalising Battambang airport.
The airport is 3 kilometers from the city center in Battambang. It has a total land area of 128.68 hectares. The runway length is slightly over 1,600 meters with a width of 34 meters.
He added that if the project is successful, it will be easier for travelers, especially those who wish to travel faster to Phnom Penh and other provinces.
The last time the Battambang airport or airstrip was used by a commercial flights was more than two decades ago by now defunct President Airlines and Kampuchea Airlines. Both flew triangular routes from Phnom Penh, Siem Reap, Battambang and Phnom Penh.
Airline industry sources said that Cambodia needs to restore and build more domestic airports or landing strips in several other far lying provinces such as Preah Vhear, Mondulkiri, Battambang and Kampot to boost domestic air travel and tourism.
"If the flights were well timed and reasonable priced with small turbo props of 24 seaters, this sector could take off in a big way, albeit gradually," sources said even as several Phnom Penh based airlines are struggling with price war and low passenger load as a result of the exodus of Chinese from Cambodia, brought about by the ban on online gaming.
Source: https://www.khmertimeskh.com/50681189/battambang-domestic-airport-revival-plans-mooted