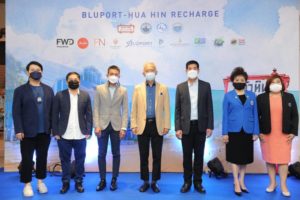 BluPort owner ploughs 100 million baht into mall to boost Hua Hin's tourism recovery
Former Deputy Prime Minister and owner of BluPort Hua Hin, Suwat Liptapanlop, has said he will invest 100 million baht into the shopping mall in order to help boost Hua Hin's post pandemic recovery.
At an event held at BluPort on Thursday (Oct 7), Mr Suwat formally launched the BluPort-Hua Hin Recharge project.
The project will see a 100 million baht investment in BluPort Hua Hin which will result in the addition of more modern facilities, as well as improvements in the business structure and services at the mall.
The aim is to transform BluPort from a mere shopping mall to a 'must see destination' that will be a major attraction for tourists visiting Hua Hin.
Mr Suwat said that the COVID-19 pandemic had forced BluPort to adjust its services, such as closing the 2nd and 3rd floors in order to meet various restrictive measures aimed at limiting the spread of COVID-19.
However, with the improvement in the overall COVID-19 situation in Hua Hin and in addition to the proposed reopening of Hua Hin on Nov 1, BluPort will soon be ready to support the post pandemic recovery of Hua Hin's tourism and business sectors.
Mr Suwat also cited the redevelopment of Hua Hin Airport, the results of a survey by Airbnb which said Hua Hin was the destination of choice for Thai tourists and the resumption of Chiang Mai, Hua Hin flights as major positives for the town.
The BluPort-Hua Hin Recharge will work alongside the Hua Hin Recharge project to support Hua Hin's economic recovery, it was announced.
The news comes as BluPort announced earlier this week that it has reopened the 2nd floor of the mall, including the BluPort Cineplex.
Source: https://www.huahintoday.com/hua-hin-news/bluport-owners-ploughs-100-million-baht-into-mall-to-boost-tourism-recovery/