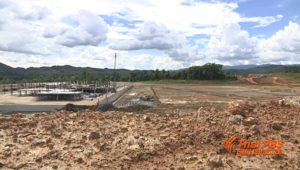 Betong Airport expected to be completed next year
When it is completed next year, Betong international airport in Yala will be the catalyst for change which will turn this southernmost district in the restive Deep South to become a tourism and logistic hub for the border region.
With the airport, travelling between Betong and other destinations as well transportation of goods to and out of the district which are hampered by the southern unrest will be more convenient and safer, according to Yala Chamber of Commerce.
The airport which was originally designed to have a runway of 1,800 metres long will be extended by another 300-400 metres so it will be able to accommodate larger planes.  Construction is now undertaken by Naowarat Pattanakarn Company on 920 rai land plot in Tambon Yarom.  A budget of 1,900 million baht has been allocated for the project.
On top of that, the Yala Chamber of Commerce has proposed the government that a tunnel be cut through a mountain in Tambon Normaror which will shorten the distance from Betong to Yala township by about 20 kilometres.
Kantapong Limkanchana, president of Yala Chamber of Commerce, said that the international airport would boost the economy in the district while the tunnel project estimated to cost about one billion baht would facilitate travel between Betong and Yala and beyond.
As Yala province is endowed with natural beauty and pristine natural resources, Mr Kantapong said the chamber would propose the government to develop the province's tourism and to ease some restrictions which discourage investors from investing in the province.
According to statistics, about 250,000 tourists visit Betong each year, bringing about 1.5 billion baht in revenue. Border trade through the district is estimated at about 4 billion baht a year.
Source: http://englishnews.thaipbs.or.th/betong-airport-expected-completed-next-year/