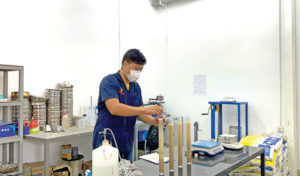 BECL, Setting Cambodia's gold standard in construction testing and inspection
A public-private partnership between the Board of Engineers, Cambodia (BEC), and Singapore's CAST Laboratories Pte Ltd will soon put the Cambodian real estate and construction sector on the same level with that of Singapore and other progressive countries in Asia.
BEC and Cast Laboratories partnered to establish the Board of Engineers, Cambodia Laboratory (BECL). The joint venture had its soft opening this month and was given a 30-year concession to operate by the Ministry of Economy and Finance and the Ministry of Labour and Vocational Training.
Established in 1981 in Singapore, CAST Laboratories has grown to become one of the top testing laboratories in Southeast Asia. At present, the company provides more than 250 specialised testing and inspection services in Singapore, Malaysia, Indonesia and other countries in the region.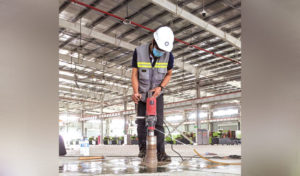 Its clients include a long list of high-end companies in the construction, oil, gas and shipyard industries. Cast Laboratories entered Cambodia six years ago. BECL will address the lack of high-standard testing and inspection facilities in the Kingdom. In the past, property developers in Cambodia relied on firms abroad to do the job for them. The need for such facilities became more acute with the rapid growth of the local property sector. In Cambodia, BECL will roll out in phases a complete package of product testing, verification, inspection and certification services. These will start from civil engineering materials testing, which include soil sampling and concrete non-destructive investigation, among others.
The establishment of BECL is seen as critical to achieving a safer and high-end construction sector in Cambodia.
Substandard construction often leads to disasters, including the collapse of a seven-storey hotel under construction in Kep province on January 3, 2020, which killed 36 people and injured another 23.
According to company insiders, BECL will help safeguard the quality and integrity of Cambodia's building projects.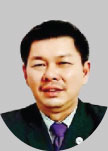 "We are aiming to strengthen Cambodia's building and infrastructure development through credible testing and inspection processes," Gary Ng Kin Choy, CAST Laboratories (Cambodia) director, said. "These will ultimately increase the trust and confidence of both local and foreign investors in Cambodia, achieving a sustainable economy and improved quality of life for the people of Cambodia." Echoing Ng, CAST Group Chief Executive Officer Lim Eng Hang mentioned the many benefits that Cambodia will reap from having a high-end, high-standard construction sector.
He noted that Cambodia is going through the same experience that Singapore had been through before.
"When a society becomes more urbanised and more high-rise buildings are being built, people tend to worry about safety. So, with more stringent testing, the public, government agencies and other stakeholders are assured of quality construction and this improves the value of properties," he pointed out.
Lim added that growth in the building industry will help move the Cambodian economy forward, noting that the construction and property sector is one of the four major pillars of the local economy, the others being garments including luggage and footweassr, tourism and associated hospitality and agriculture.
Source: https://www.khmertimeskh.com/50911334/becl-setting-the-gold-standard-in-construction-testing-and-inspection/