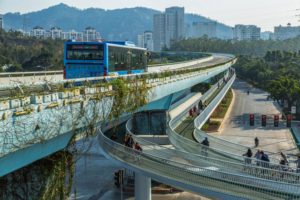 Bangkok's 'Skycycle lane' idea offers elevated congestion-free travel
Inspired by Xiamen Bicycle Skyway in China, Scira's proposed raised bicycle route promises to improve connectivity and ease traffic woes.
15 September 2019
In a bid to promote the use of bicycles for daily transport, Smart City Innovative Research Academy (Scira), a think-tank on urban development under King Mongkut's Institute of Technology Ladkrabang has come up with an idea it calls "The Skycycle Project".
The project calls for the construction of a 21km elevated bicycle route that will run parallel with the Airport Rail Link (ARL).
If built, the route will be the longest in the world, longer than the 7.6km Xiamen Bicycle Skyway in China's Fujian province which was completed in February 2017.
"The skyway bicycle lane can make cycling a practical transport alternative for Bangkok residents.
"It will provide people with another option to travel to the city and this choice is good for their health and the environment," Prapatpong Upala, director of Scira, told the Bangkok Post.
"The Skycycle Project will offer a variety of advantages. It will boost connectivity from Bangkok's outer areas to the central business district.
"It will also reduce the amount of energy used which will limit pollution, promote healthy living, by giving more space for cycling, and ultimately increase quality of life for city folk," Mr Prapatpong said.
He added the Xiamen Bicycle Skyway in Fujian "is so successful and inspiring because it links five communities, three shopping complexes and eleven railway stations along its 7.6km path".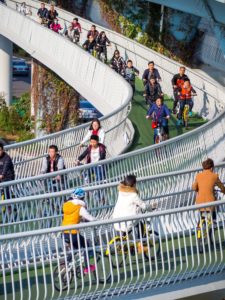 Likewise, the ARL route will provide similar land use and connectivity options.
The ARL passes through three central business areas — Phaya Thai, Ratchaprarop and Phetchaburi — and the four large residential areas of Hua Mak, Ramkhamhaeng area, Ban Tap Chang and Lat Krabang as well as major transport hub Suvarnabhumi international airport.
Scira has completed a feasibility study which features the construction of a 21km elevated bicycle lane starting from Phaya Thai BTS station and terminating in Lat Krabang.
Mr Prapatpong said construction can begin right away because there are only local roads below the ARL which will make the job easier.
The elevated bicycle lane will run along each side of the ARL and the lanes will be positioned a bit lower than the railway platform.
Each lane will be 3.5 metres in width and stand at least 5 metres above the ground.
Besides building the elevated lanes, the study also proposed the construction of related facilities such as bicycle rental services, rest areas and a roof to protect cyclists from the sun and rain.
The cost of the project is estimated to be around 1.8 billion baht based on the cost of previous BTS Skywalk projects which required 100 million baht per kilometre at most.
The project, the latest urban solution from Scira, will require a year and a half to complete from start to finish.
Scira was established in late 2018 to promote a high-quality urban life.
The agency draws on academic research to uncover innovative and technological breakthroughs and come up with solutions to urban problems.
Suchatvee Suwansawat, dean of King Mongkut's Institute of Technology Ladkrabang, said Scira had made use of its Big Data system which collects data from both private and public organisations to create solutions for urban development.
Previously, Scira has proposed a flood management solution called "Underground Floodwater BKK", which has alternatively been labelled an "underground flood-retention pond" by Prime Minister Prayut Chan-o-cha.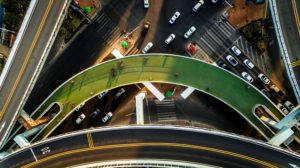 It involves the construction of an underground concrete water tank in Benjakitti Park near Queen Sirikit National Convention Centre.
The project is projected to cost one billion baht and take two years to complete.
When finished, the underground tank will be able to store up to 100,000 cubic metres of water.
The park was chosen because it is the second lowest-lying area in the city after Ramkhamhaeng Road.
Once completed, this kaem ling will relieve flooding in Yannawa, Klong Toey, Watthana and Sathon districts of inner Bangkok.
Another project from Scira is a solution to handle rising air pollution levels by installing particulate detectors and ventilators within bus stops.
Source: https://www.bangkokpost.com/thailand/general/1750494/skycycle-lane-offers-elevated-congestion-free-travel