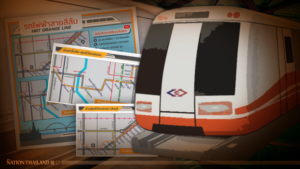 Bangkok's rail network common ticketing system vows fall flat
BANGKOK POST EDITORIAL COLUMN
Earlier this month, Prime Minister General Prayut Chan-o-cha inaugurated a 4.3-kilometre extension of the BTS Skytrain from Kasetsart University to the Royal Forest Department. The event was marked with official fanfare but city residents had little reason to cheer. Over the past year, various extensions have sprung across the city connecting commuters from all corners to the mass transit system. However, transit operators have not been able to get one crucial thing right — introducing a robust common ticketing system.
Almost five years after it was first promised, an integrated ticketing system for public transport — which will allow Bangkokians to travel on the BTS Skytrain, MRT, and Airport Link (ARL) using a single card — remains out of reach. Despite numerous delays, the government late last month hinted at another setback and pushed the launch date to October, saying the firm hired to develop the system was facing a downturn due to Covid-19.
If and when introduced, Bangkok will join the likes of Kuala Lumpur, Singapore, London, and other cities where residents can use a single card to access various forms of public transit from trains, buses, to ferries. However, in Bangkok, a common ticketing system will offer users more than just convenience and reducing overall travel time.
The Mangmoom card, which is supposed to link all networks, is meant to transform the city's costly mass transit system and make it more affordable for the city's lowest-income earners, who have effectively been priced out.
A recent research paper by the Thailand Development Research Institute (TDRI) revealed just how disproportionately high the cost of public transport is in Bangkok when compared to local wages and other systems around the world. Comparing four cities — Bangkok, Hong Kong, Singapore, and London — the study found the average cost to travel per kilometre in Bangkok was highest at 14.8 baht, as opposed to 12.4 baht in London, 2.3 baht in Singapore and 4.08 baht in Hong Kong.
Unlike other cities, Bangkok's rail network has multiple owners with different objectives — BTS is owned by BTS Group Holdings, MRT by Mass Rapid Authority of Thailand, and the ARL by the State Railway of Thailand — who all require riders to pay a base fare to use their service regardless of where a user begins their journey.
As a result, artificially high fares have become the status quo and conflicts of interest have served as a major headache during negotiations on how to implement an integrated ticketing system — which requires every operator to waive its base fare.
While the MRT and ARL have agreed to waive this fee, the BTS has maintained it will only consider fare reductions and/or fare caps. Considering that BTS is a private enterprise, its primary priority is to maximise shareholder profit, not provide an affordable mass transit system in a city where congestion is the norm. It's no surprise then that delays have dragged on as repeated discussions and negotiations have failed to yield a solution all sides can agree to.
Unfortunately, patience is now wearing thin. At a time people are facing extra financial strain, transit operators must move swiftly to offer respite to riders. One option worth exploring is a "middle-ground" compromise where transit operators offer an affordable monthly subscription card that can be used to travel across all networks with equal profit sharing among operators.
The cost of such a plan can be at the discretion of the operators with the silver lining being that the overall cost of multiple trips over a month should be cheaper than the current model where users pay per trip based on distance travelled. The BTS' pre-paid trip system, which allows users to buy "pre-purchase trips" and travel between stations at a fixed cost, can serve as a model.
Another option is that the government subsidise travel for low-income earners by offering a tax rebate. The Transport Ministry has promised to take this into consideration, but eventually does nothing.
Last but not least, transit operators should explore alternative options to generate income which can then be used to subsidise fares. Renting out advertisement space and charging condo developers a premium to be located next to stations is already common practice.
To prevent this delay from dragging on further, it's time rail operators stop making empty promises and indefinitely delaying the introduction of a common ticketing system.
The government has a few months left to ensure public transit becomes an attractive option for commuters and discourages motorists from driving, which will not only reduce congestion on roads but also ease environmental impact, especially regarding dust pollution.
Otherwise, Bangkok's public transport system will always remain an operation that is meant for just about anyone but the people who need it the most.
Source: https://www.bangkokpost.com/opinion/opinion/1934432/common-ticket-vows-fall-flat