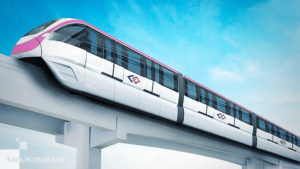 Bangkok's MRTA Pink Line's completion pushed back nearly a year – extension of another 290 days
The board of the Mass Rapid Transit Authority of Thailand (MRTA) has approved an extension of the deadline for the construction of the Pink Line electric rail project for another 290 days.
MRTA governor Pakapong Sirikantaramas said the delay in finishing the first phase between Khae Rai and Min Buri was because the project concessionaire, Northern Bangkok Monorail Co, has had problems accessing the construction site due to the relocation of two railway stations — Nonthaburi Civic Centre station and Nopparat station.
The contractor has also had problems moving prefabricated construction materials for installation at the rail tracks because electricity supplies to the tracks could not be switched off according to plan, he said.
Another problem is that the floodway construction project by the Highways Department is under way in the same area as the Pink Line project, affecting construction of the Chaeng Watthana station, the government complex station on Chaeng Watthana Road, and the TOT station, Mr Pakapong said.
He added the present extension has not taken into account the impacts of the Covid-19 outbreak as it is still not known when the pandemic will ease.
He also said the concessionaire has come up with a partial operating plan for the Pink Line which will be divided into three stages.
In the first stage which will open in June next year, the train will start from its maintenance depot and run from the Min Buri station to the government complex for about 21 kilometres.
The second stage, which will open in August next year, will see trains run from the Min Buri station to the Royal Irrigation Department station covering about 29 kilometres.
The final phase will see the whole 34.5 kilometre route open for business by July 2023, Mr Pakapong said.
Source: https://www.bangkokpost.com/business/2188079/pink-lines-completion-pushed-back-nearly-a-year