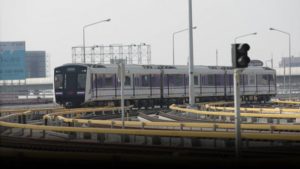 Bangkok's MRT Purple Line southern extension to lift real estate investment
Krungthai Compass, the business analysis arm of Thailand's Krungthai Bank, believes the MRT Purple Line's southern extension will attract up to 80 billion baht ($2.4 billion) in real estate investment in Bangkok's Tao Poon-Rat Burana area.
Compass executive vice-president Phacharaphot Nuntramas said the 110-billion-baht extension of the MRT Purple Line will be a boon for the real estate market, attracting private sector investments.
He reckons the extension will boost the sale of homes in the area by 25 per cent to 9,600 units this year from 7,700 units between 2018 and 2020.
Once the Covid-19 situation eases, the condominium developments in Bang Sue and Khlong San areas and townhouses in the Pracha Uthit-Phutta Bucha area, in the below three-million-baht price bracket and those no more than five million baht, will benefit the most.
He said these units meet homebuyers' needs and grant 30-40 per cent of the price as profit for the developer.
He also expects the number of convenience stores in the area to rise by two- or threefold. Currently, there are four to five convenience stores per 10,000 people in Thailand.
Compasss analyst Kanit Umsakul said government investment in this project will boost gross domestic product (GDP) growth by 0.1-0.2 per cent. Though many construction sites were temporarily closed at the start of the third quarter, construction resumed in the middle of the quarter and many developments may meet their deadline in the fourth quarter.
He also believes the real-estate sector will grow significantly next year because the government plans to boost foreign ownership percentage in condominiums. Foreigners can currently only own 49 per cent. The government is also planning to allow foreigners to buy land and houses worth more than 10 million baht.
As for Bangkok and its adjacent provinces, Compass speculates that the number of properties bought will rise by 4.8 per cent or by 370 billion baht during the rest of this year, and by 5.1 per cent or 389 billion baht in 2022.
However, it says the number of condominium units bought will drop by 4.4 per cent or 249 billion baht until yearend, though it will rise by 3.2 per cent or 257-billion-baht next year.
THE NATION (THAILAND)/ASIA NEWS NETWORK
Source: https://www.phnompenhpost.com/post-property/bangkok-mrt-purple-line-extension-lift-real-estate