Bangkok's ICONSIAM selected Best Designed Development in the world by International Council of Shopping Centers
ICONSIAM secures place among the world's most iconic projects as one of few ever to receive top development design awards from three of world's most respected international retail and property development associations
The International Council of Shopping Centers, the world's leading association of shopping centers with more than 70,000 members across 100 countries, recently announced its selection by a jury of industry professionals of Thailand's ICONSIAM as global winner of its VIVA best-of-the-best awards for Best Design and Development 2020 for "ingenuity, innovation and forward-thinking vision".
ICONSIAM is a $1.7 billion riverside landmark destination in Bangkok, with 750,000 square metres of floor area that combines retail spaces with cultural offerings, entertainment, dozens of restaurants, super-luxury residences, as well as public areas for community activities, including Bangkok's largest riverside public space. It is the largest private sector property development project ever to open in Thailand.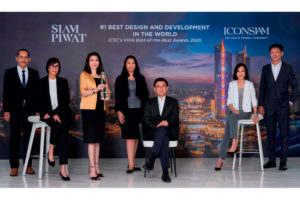 ICONSIAM was chosen from among a field of over 100 entries from around the world vying for the most coveted award for professional excellence in the retail and real estate industry.
Called the 'VIVA Best-of-the-Best Awards', the annual award programme is conducted by the International Council of Shopping Centers (ICSC) and recognises the most outstanding new shopping centre developments in the world.
This year, due to worldwide Covid-19 restrictions, the programme was conducted without the annual gala dinner ceremony in Las Vegas, USA, that is a highlight on the international calendar of events for shopping centre owners and operators.
The prize secures ICONSIAM a place among the world's most iconic projects by making it one of only a handful of projects in the world ever to be presented with the top development design award from three of the most respected international retail and property development associations. ICONSIAM was also selected by the World Retail Awards as Winner of its global 'Best Store Design' prize as well as being selected Winner for 'Best Shopping Center' at the annual MAPIC Awards for the retail and development industry.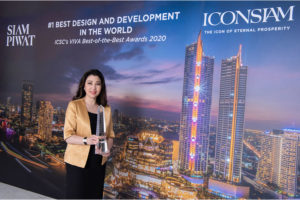 Mrs. Chadatip Chutrakul, Director of ICONSIAM Co., Ltd. and Chief Executive Officer of ICONSIAM's joint venture partner Siam Piwat Co., Ltd., said, "We are very honoured by this global recognition for Thailand as a country that is pioneering new concepts in retail and development. We wanted to create a new type of lifestyle destination that would attract people to spend their leisure time at our property in a more fulfilling way and be a place where the best of Thailand meets the best of the world. At the same time, we sought to make local communities and people from many different parts of society become integral parts of the development's design as well as the beneficiaries of its success in a paradigm-shifting business model."
According to Mrs. Chutrakul, "Hundreds of Thai artists, artisans, designers, architects, and engineers, contributed to ICONSIAM's creation, and their artistic, cultural and technical legacy is visible everywhere one looks in the property."
Among the most unusual components of the development is 'SookSiam', which is an entire floor spanning 16,000 square metres that is dedicated to small-scale business operators from towns and provinces around Thailand who have something extraordinary to offer, whether it be handicrafts, foodstuffs, beverages, or any other creation.
"The SookSiam zone helps these small operators present their Thai creations on a platform that is globally visible and grooms local heroes to become global heroes," she said.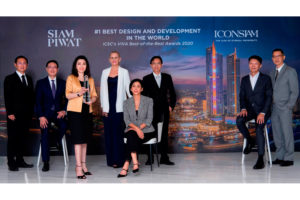 Mrs. Chutrakul said that ICONSIAM was attracting up to 300,000 visitors a day prior to the Covid-19 crisis and expressed confidence that "the appeal of its design as a diverse lifestyle and cultural destination will ensure a return to those numbers once the world has found a way to get ahead of the challenges posed by the pandemic."
Mr. Yuthasak Supasorn, Governor of the Tourism Authority of Thailand said, "ICONSIAM added a completely new destination to Bangkok's repertoire of 'must-see' venues. But more than that, it has made the Chao Phraya River into a new global destination. Plus it has been a vital catalyst for the regeneration of the Bangkok riverfront. ICONSIAM stimulated new public pride in the river and a desire to improve the river's condition and the multiple heritage sites along its banks. It is very unusual for a single development to have such a broad and positive impact."
This is the second time in only three years that Thai retail developer Siam Piwat has won the world's top retail development design award (VIVA Best-of-the-Best) for one of its projects, the other being in 2018 for its 'Siam Discovery' hybrid retail destination.
ICONSIAM has been developed by a joint venture between Siam Piwat, the owner and operator of prestige retail developments in Bangkok such as Siam Center, Siam Paragon, and Siam Discovery; Magnolia Quality Development Corporation (MQDC), the owner and developer of luxury quality residential and mixed-use projects; and multi-national conglomerate Charoen Pokphand Group (CP Group)
Source: https://www.bangkokpost.com/thailand/pr/2015403/iconsiam-selected-best-designed-development-in-the-world-by-international-council-of-shopping-centers