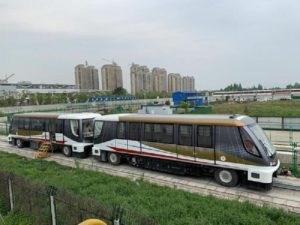 Bangkok's Gold Line monorail to start running by October 2020
By THE NATION
The Gold Line monorail should be ready for trial runs in September before going into service by the end of October, according to the contractor Krungthep Thanakom (KT).
Manit Techapichok, director of KT, said one of the three trains ordered from China will arrive in Thailand on June 10, after its delivery was delayed by the Covid-19 crisis.
Also, he said, the construction of the three stations – Krung Thonburi, Charoen Nakhon and Khlong San – was 88 per cent complete.
The driverless trains used in this system, the Bombardier Innovia APM 300, can run at the speed of 80 kilometres an hour and can accommodate 137 passengers.
Source: https://www.nationthailand.com/news/30388737