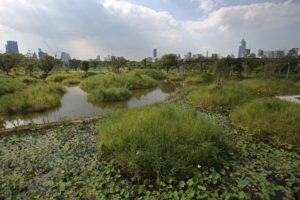 Bangkok's Benjakitti Park expansion set for opening in February 2022
Prime Minister Prayut Chan-o-cha promotes royal heritage of project
The extension of Benjakitti Forest Park in Klong Toey district will open to the public in February next year, according to Prime Minister Prayut Chan-o-cha.
Gen Prayut disclosed the opening date of the park on his Facebook on Sunday.
The expansion from its original area near Queen Sirikit National Convention Centre in Klong Toey will make it the first forest park to cover more than 300 rai in the capital.
Gen Prayut said the development of the park was approved by cabinet on March 8, 2016, in accordance with the wishes of His Majesty King Bhumibol Adulyadej The Great and Her Majesty Queen Sirikit The Queen Mother.
They wanted the park to cultivate a deeper understanding of the value of forest areas and natural resources among the urban public.
Gen Prayut also posted a picture of the park, saying there will be around 10,000 trees with seasonal flowers and wetlands around.
These will nurture the green zones which will perform a major role in absorbing air pollution including PM2.5 dust throughout the city.
"This park will be a symbol that strengthens the connection between Thais and the royal institution.
"After completion, it will be an education centre, tourist site and a relaxing place for everyone," said Gen Prayut.
The park is scheduled to open in February with an official ceremony to held on Aug 12 in honour of Her Majesty Queen Sirikit The Queen Mother.
The development of Benjakitti Forest Park is part of the government's 30-year plan to create large city public parks.
The area was formerly occupied by the Thai Tobacco Monopoly, before it donated the 453-rai plot in 1994 to serve as "the lungs of the city".
One of the highlights of the park is the forest area which will become a source of study and way for students and the public to learn about nature and the ecosystems which support a biodiverse array of plant and animal species.
The park's 142-rai water garden was first opened in 2004 at a ceremony presided over by Her Majesty Queen Sirikit The Queen Mother.
Once fully open, there will be four ponds — able to hold 128 million cubic metres of water — and 7,155 trees, including freshwater swamp, evergreen and mangrove trees and Thai flowers.
The park's route map will comprise natural footpaths of up to 5.8 km as well as a 2.8 km stretch designed for joggers and a 3.4 km for bicycle run.
As well as a full museum, and accompanying buildings for indoor activities, there will be a recreation area and outdoor stage that can accommodate up to 15,000 people.
Source: https://www.bangkokpost.com/thailand/general/2223043/benjakitti-park-expansion-set-for-feb