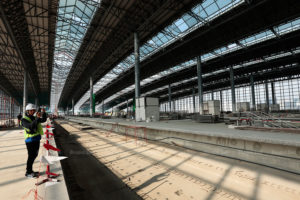 Bangkok's 22.1-kilometre Brown Line monorail project gets go ahead
Thailand's Mass Rapid Transit Authority (MRTA) has given Bangkok's new monorail project worth 49.87 billion baht the go-ahead.
READ ALSO: Brown Line monorail, expressway take shape
Sarawut Songsivilai, director-general of the Highways Department who is also chairman of the MRTA board, said the 22.1-kilometre Brown Line will link Nonthaburi's Khae Rai intersection to Bangkok's Lam Salee intersection.
Sarawut said the board also gave the green light for the project's feasibility study to be carried out under the 2019 Public-Private Partnership Act. The study will help determine the net cost of the project and will be presented to the Transport Ministry for deliberation by the next Cabinet, Sarawut said.
If approved by June, the MRTA will set up a committee in line with Article 36 of the PPP Act to launch a bidding process.
As per the initial schedule, the monorail project will enter the land and assets appropriation stage by January 2025. The appropriation process should last until February 2028.
The bidding process for the construction and operation of the monorail may be held between January 2024 and July 2025.
Construction may begin in August 2025 and the project finished by July 2028, with the monorail running by August that year provided the land appropriations process is not delayed.
Sarawut added that the project's environmental impact assessment (EIA) is being considered by the relevant committee.
Bangkok's Brown Line monorail project gets MRTA nodThe monorail will have 20 stations and its 49.865 billion baht cost will be divided as follows: 7.254 billion baht for assets appropriation, 18.544 billion baht for construction, 16.351 billion for system installation, 1.395 billion for the advisory firm and 6.32 billion in provisional funds.
Under the PPP, the government will be responsible for the cost of land appropriations, while the construction and system installation will be covered by the private sector. The government will subsidise the private sector by allowing it to pay the construction cost over 10 years.
The winner of the project will operate and maintain the monorail system for 30 years.
Sarawut said the project has a 20.82% economic internal rate of return (EiRR) and would have a net present value (NPV) of 50.66 billion baht as well as a benefit-cost ratio of 2.45 times.
The study showed that once the service starts, it should see at least 112,439 passengers daily, while fares will start at 14 baht and rise to a maximum of 42 baht.
There are already two monorails under construction – the Pink Line connecting Nonthaburi's Pak Kret district with Bangkok's Minburi district, and the Yellow Line from Samrong in Samut Prakan to Sri-iam intersection in Bangkok.
Source: https://www.nationthailand.com/thailand/economy/40027886