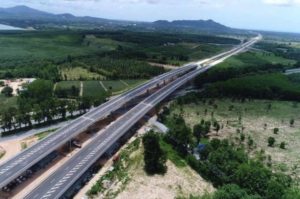 Bangkok to Map-Ta-Phut motorway to officially open 24 August 2020
Thailand's premier Prayuth Chan-Ocha will officially open the Bangkok to Map Ta Phut motorway on August 24th.
The road (Route 7) features the recently opened 32 km extension from Pattaya to Maptaphut that has been free to use since May 22nd 2020.
The extension is currently free to use until the end of August and looks set to remain free for the time being after a public consultation phase was carried out since August 4th.
The cost of the extension was 17.78 billion baht.
Daily News reported that two new booths at Huay Yai and Khao Chi Oan are now ready and that the extension is almost 100% complete.
The fee for the entire 149 km route is expected to be 130 baht for a four wheel vehicle.
Journey time from the capital to the eastern seaboard will be just one and a half hours.
Piyapong Jiwatnakunphaisan of the Highways' Department said that since the opening of the extension daily usage had been increasing with 6,000 – 8,000 vehicles. About 10,000 have been on the road during long holiday weekends.
He expects with the two new booths opening that usage will continue to increase.
Source:Thaivisa & https://www.dailynews.co.th/economic/790411