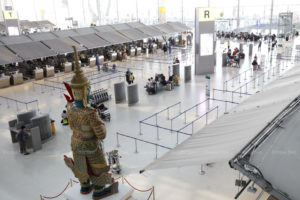 Bangkok planning a feasibility study for a light rail link between Bang Na intersection and Suvarnabhumi International Airport
BMA seeks opinion on airport link
City Hall is planning to hire a consultant to carry out a feasibility study for a light rail link between Bang Na intersection and Suvarnabhumi International Airport.
Prapas Luangsirinapa, director of the BMA's Traffic and Transport office, said the bidding envelope will be sold to consulting firms later in the month.
The chosen firm will get a 21.8 million baht contract to study the feasibility of light rail services between Bang Na intersection and Bangkok's main international gateway, for which it will have 200 days to complete.
The goal of the study is to gauge the possibility of using a public-private partnership (PPP) format to develop the 14.4-kilometre-long electric rail route.
The BMA chose the investment model to develop Bangkok skytrain's Green Line, Mr Prapas said, and expects to pick a consultant this year.
If built, the light rail project — which would mainly run along Bang Na-Trat Road — would be divided into two parts.
The first would see the construction of tracks that would start at Bang Na intersection, near the Bangkok International Trade and Exhibition Centre (Bitec) and end at Thana City Housing Estates.
The second, Mr Prapas said, will see the track extended past Thana City, past Krirk University towards Suvarnabhumi airport's premises.
Mr Prapas said the line will terminate at the underground level of the new Suvarnabhumi airport terminal.
The first phase, he said, will see the construction of 12 stations. The second phase will see two stations added to the line, thus completing the project.
It is the city's latest plan to develop light rail services which could also help boost the local economy.
Source: https://www.bangkokpost.com/business/2045011/bma-seeks-opinion-on-airport-link