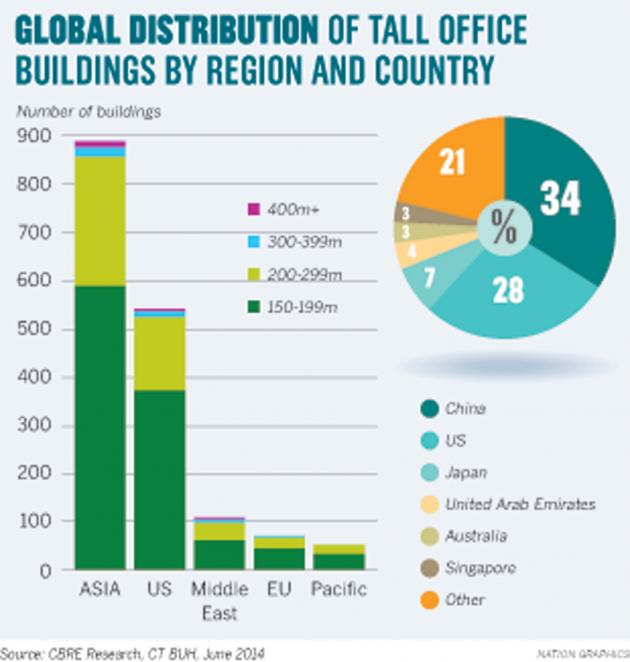 There has been a rapid development of super-tall buildings in Asia in the past 10 years after the economic boom in China and other key markets. The Council on Tall Buildings and Urban Habitat defines "super-tall building" as one higher than 300 metres, whereas a "tall building" is more than 150 metres high.
Today, the Bangkok skyline is filled with buildings of 30-40 storeys. These buildings are spread out from the prime downtown areas to midtown locations along the mass-transit routes.In Bangkok, there is only one completed super-tall building – Baiyoke II Tower, an 85-storey hotel with a height of 304 metres. However, there are two super-tall buildings under development: Mahanakorn and Magnolias Waterfront Residences at IconSiam, which are over 310 metres in height.In other parts of the world, the trend towards super-tall buildings has continually evolved. This has been a good indicator of economic prosperity, but also a sign of property bubbles.
Based on CBRE surveys in Asia, the key drivers influencing tenants' decisions to lease offices in super-tall buildings are image and branding. The market is different in Europe, where there are fewer tall buildings in key markets such as London and Paris.
One example of a super-tall building in Asia is the Shanghai Tower, a mixed-use building designed by Gensler. This 632-metre building will contain 574,000 square metres of world-class office, hotel, entertainment, retail and cultural venues, and provide 360-degree views of Shanghai. It is expected to be the second-tallest building in the world.
In Thailand, it has been proved that buildings with 30-50 storeys are popular and can command higher prices per square metre for condominiums and relatively higher rentals for offices. Once the height is over 50 storeys, though, the buyers or tenants will weigh between the increased price/rental against the height and, in most cases, the preference will be for 30-to-50-storey buildings. We have yet to see a premium in prices of buildings with more than 60 floors.
Super-tall buildings command high quality in terms of planning, designing, constructing and specifications. Construction is very demanding and must meet the challenges of wind and earthquake resistance, fire separation, elevator connectivity and more. The standards for the power-backup, air-conditioning and water-supply systems are generally much higher than those for less lofty buildings.
The location must also be prime for visibility and prestige. This entails a large financial investment both for construction and land. The period of construction is also a variable cost and, in many cases, it has been largely unsuccessful, as it has been affected by external factors such as economic situations and political stability.
In Thailand, I think the prospects for super-tall office buildings are not impressive considering the cost of development against the achievable rentals. There is not enough demand from the types of tenants who are willing to pay a rental premium, and the existing new Grade A tall buildings have satisfied the requirements of tenants in the office market. In other countries, super-tall buildings can command a rental premium of 10-40 per cent over the market average.
Similarly, before building a super-tall residential condominium, the developer should consider how much of a premium it can achieve and whether the market will favourably perceive quality and height against the cost of a unit.
As this is a new phenomenon in Thailand, some of the super-tall developments in the country are paired with top hotel brands to strengthen the image of these buildings and the confidence of buyers in terms of operation and design and the quality standards required by hotel operators.
Aliwassa Pathnadabutr is managing director of CBRE Thailand.
Source: http://www.nationmultimedia.com/business/Bangkok-not-ready-for-super-tall-skyscrapers-30243585.html