Bangkok Metropolitan Administration authorised to manage troubled Green Line BTS train system
The Bangkok Metropolitan Administration (BMA) has the full authority over the troubled Green Line train project, better known as the BTS system, including the controversial operating concession, fares and debts incurred in the construction of the system, according to Interior Minister Anupong Paochinda.
After meeting newly-elected Bangkok Governor Chadchart Sittipunt yesterday (Monday), Gen Anupong said that he is confident that Chadchart will be able to solve problems related to the train system without the need to seek cabinet approval.
Chadchart, however, insisted that the final decision still rests with the cabinet and the Interior Ministry and that the city administration is ready to be guided by both.
There are three main issues related to the Green Line system which, according to the governor, are complicated and may be beyond the city administration's ability to handle alone.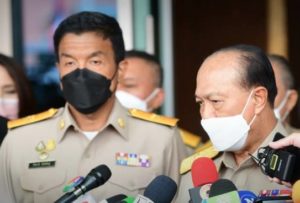 First is the debt incurred during the construction of the project. This includes 60 billion baht for the costs of construction, undertaken by the Mass Rapid Transit Authority of Thailand (MRTA) for the Third Phase extension of the 13km long stretch from Bearing to Keha in Samut Prakan and the 19km long track from Mo Chit to Khu Khot.
There is also the 40-billion-baht cost of construction undertaken for the previous phases of the project.
The First Phase was undertaken by Bangkok Mass Transit System Public Company Limited (BTSC). It covers the Silom route from Silom Road to Wongwian Yai in Thon Buri and from Mo Chit to On Nut on Sukhumvit Road.
The Second Phase of the project was undertaken by the BMA. It covers the extension of the system from On Nut to Baring and from Wongwian Yai to Bang Wa. BTSC was hired to operate this phase from 2012 to 2042.
The second issue is the contract for the operation of the system and the third is the 30-year extension of the concession contract, between Krungthep Thanakom, an investment arm of the BMA, and BTSC, to operate the entire train system at the end of the existing contract, which is due to expire in 2029.
The final issue is the fare, of which the proposed maximum fare of 65 baht has been criticised by the puublic to be too high.
Governor Chadchart has said that the burden of the huge construction costs should not be the sole responsibility of the city's administration. He also voiced his objection to the premature signing of the concession extension, between BTS and Krungthep Thanakom, noting that there are still seven years to run on the current contract.
Source: https://www.thaipbsworld.com/bma-authorised-to-manage-troubled-green-line-bts-train-system-interior-minister/