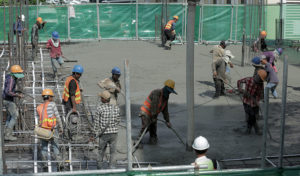 Bangkok construction expo to lure Cambodian firms
Thousands of constructions firms and related companies from around the world are expected to attend this September the Intermat Asean and Concrete Asia expo in Bangkok, Thailand, an event that will also attract a sizeable number of Cambodian firms, according to industry insiders.
Organised by the Impact Exhibition Management and Comexposium Group, with the support of Thailand's Construction Association and the Concrete Association, the trade show will be held on September 6-8.
The expo combines two renowned fairs in one event: Intermat Asean – the construction-related trade show with the largest number of international participants in the region – and Concrete Asia, which centres on concrete surfaces, decorative concrete, material handling, concrete production, cement, building materials and construction equipment and machinery.
According to an event press release, this year Intermat Asean will focus on earthmoving and demolition, roads, minerals and foundations.
"We are confident that holding Concrete Asia and Intermat Asean together in 2018 will help deliver the best possible synergies and bring real added value to the event's local and regional buyers and visitors," Isabelle Alfano, director of Intermat Asean, said in a press conference yesterday.
Ms Alfano said the expos are the two biggest construction equipment events in the region.
"These are the only two trade shows in Asean with the capacity to showcase an exhaustive offering from the global construction and concrete industries."
According to her, the event will attract 300 professional exhibitors and more than 5,000 visitors, including some of the biggest buyers in the region.
Soreasmey Ke Bin, vice-president of the French Chamber of Commerce in Cambodia, told Khmer Times that many local companies and consumers will travel to Bangkok to partake in the event.
From November 29 to December 1, Cambodia will host its own construction trade show. The seventh edition of the Cambodia Constructor Association Summit and Construction Industry Expo will take place in Phnom Penh's Diamond Island Convention and Exhibition Centre.
Source: https://www.khmertimeskh.com/50500379/bangkok-construction-expo-to-lure-local-firms/