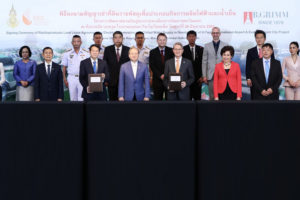 B.Grimm Power initiates development of the world's largest hybrid power supply system to serve Rayong's U-tapao airport and the Eastern Airport City (EAC)
Hybrid power supply is made up of an 80MW gas-fired power plant and a 15MW solar photovoltaic farm, as well as a 50MW energy storage system (ESS)
SET-listed B.Grimm Power, Thailand's top power generation firm by capacity, has started development of the world's largest hybrid power supply system to serve U-tapao airport and the Eastern Airport City (EAC).
The company yesterday signed a 29.5-year lease for 100 rai of state land with the Eastern Economic Corridor (EEC) and the Royal Thai Army. The firm was awarded a concession to develop and run a 95-megawatt power supply system and produce chilled water at an estimated cost of 3.8 billion baht.
B.Grimm Power president Preeyanart Soontornwata said the project is part of efforts to develop U-tapao airport into another international hub in the central region, following Don Mueang and Suvarnabhumi airports.
The hybrid power supply is made up of an 80MW gas-fired power plant and a 15MW solar photovoltaic farm, as well as a 50MW energy storage system (ESS), all on land adjacent to the airport and the EAC.
The power supply system will be considered the largest by capacity in the world for this type of hybrid system.
"This is state-of-the-art technology for clean power generation supplies because it will combine three power resources, while normally systems are either fossil-fired and ESS or solar panel and ESS," Mrs Preeyanart said.
She said the electricity will be supplied to U-tapao airport and the EAC (40MW), the planned high-speed train at U-tapao station (20MW) and the army (60MW).
The project will have an internal rate of return averaging 12% and is expected to begin operations in 2023.
Mrs Preeyanart said B.Grimm Power is conducting a feasibility study to import liquefied natural gas through its existing LNG shipping licence to power the plant.
B.Grimm chairman Harald Link said the company has teamed up with global energy firms in the hybrid power supply business.
State-owned energy firm China Energy and Engineering Corporation will support solar panels and equipment. Korea Electric Power Corporation will supply the ESS and energy management system technology.
The power supply system will also support gas and steam turbines from Siemens.
The project is part of ongoing development plans to turn U-tapao airport and the EAC into a hub for tourism, logistics and aviation.
Source: https://www.bangkokpost.com/business/1941752/b-grimm-initiates-hybrid-power-system