Ayutthaya condo market sees rebound
Industry, tourism drive upswing
The growing industrial sector and a tourism recovery helped the Ayutthaya property market register a strong rebound for condos priced 1-1.5 million baht in the second half last year.
Somphon Rattchathapimolchai, chief marketing officer of Ayutthaya City Park Shopping Complex, said the industrial and tourism sectors are the main drivers of the province's economy.
"The industrial sector in Ayutthaya is expanding," he said. "It is boosting housing demand in locations near industrial estates, with single detached houses and duplex houses posting strong growth."
Mr Somphon said condo projects near industrial estates had a high absorption rate of 80-90%, while condos and townhouses for rent also recorded good monthly rates of 8,000-13,000 baht.
According to the National Economic and Social Development Council, Ayutthaya ranked fourth in gross provincial product with 436 billion baht in 2020.
The Unesco World Heritage City has five industrial estates with more than 6,500 factories and 497,984 workers, which contribute to a growing population and spending, he said.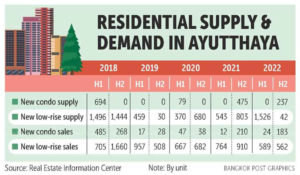 "These factors attracted property investments in various segments like low-rise houses, condos, shophouses, shopping centres and hotels," said Mr Somphon, who is also vice-president of the Tourism Council of Ayutthaya. "After the pandemic, foreign tourists returned and bolstered the income of local residents."
According to the Real Estate Information Center (REIC), newly launched residential supply in Ayutthaya in the second half of 2022 tallied 279 units, down 78% year-on-year.
Vichai Viratkapan, acting director-general of REIC, said the majority of the new supply was condos, some 237 units, all from Bangkok-based listed developers. Roughly 200 units, or 86%, were priced 1-1.5 million baht, with the remaining units priced 1.51-2 million baht.
"All of the new condo supply during this period is located near Bang Pa-in Industrial Estate, developed under the Board of Investment scheme," he said. "This housing supports the industrial sector, which grew during the pandemic."
New condo sales soared from 24 units worth 55 million baht in the first half of 2022 to 183 units worth 292 million in the second half. Some 84% were located near Bang Pa-in Industrial Estate and 16% near Rojana Industrial Park.
The absorption rate for condos was 5.7% per month, the highest among all housing types, according to REIC, up from 1.2% in the first half of 2022, but a dip from 6.6% in the second half of 2021.
New low-rise housing supply launched in the second half of 2022 totalled 42 units, all townhouses, after recording the largest volume in more than four years at 1,526 units in the first half.
Popular low-rise housing locations were near Rojana Industrial Park, with units priced between 2-5 million baht, and near Bang Pa-in Industrial Estate, with units priced lower than 3 million baht.
"Though condo and townhouse sales have been good, there is concern about a glut as there is a large number of unsold units, particularly those already completed and ready for transfer," said Mr Vichai. "This does not include units under construction."
Last year, there were 6,383 low-rise houses worth 21.2 billion baht and 352 condo units worth 751 million baht unsold in the area. Of these, 658 low-rise houses and 143 condo units were ready for transfer.
Source: https://www.bangkokpost.com/property/2541899/ayutthaya-condo-market-sees-rebound