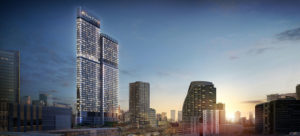 Ananda Development shares tumble after Thailand's Central Administrative Court ruling
Shares of Ananda Development Plc (ANAN), one of the country's leading residential developers, plunged over 14 per cent on Monday after the Central Administrative Court ruled to withdraw the residence license for the Ashton Asoke condominium project (Sukhumvit 21 Asoke).
ANAN shares fell sharply by 14.29 per cent from its prior closing price to 1.50 baht, the lowest level since November 2020. The price has since settled at around 1.61 baht, still down 8 per cent, as of 10.36 am.
The Central Administrative Court ruled on Friday evening that the Ashton Asoke project, worth around 6.5 billion baht, was illegally constructed as it is not connected to a main road.
ANAN's chief executive, Chanond Ruangkritya, informed the Stock Exchange of Thailand on Monday that the company holds a different opinion from the court's verdict.
The company will pursue its legal right to appeal to the Supreme Administrative Court, the company said in a statement.
Chanond added that "verdict is not final until the Supreme Administrative Court's judgement."
The court's decision has prompted many residents to try and sell out their units.
"I'm certain that we'll win the lawsuit," Chanond told his clients in a video clip posted on ANAN's official Facebook page.
"The company has progressed correctly in line with the [existing] laws, rules, and government agency announcements."
Source: https://www.thaienquirer.com/30692/ananda-development-shares-tumble-after-court-ruling/