Alatas take delivery of Spierings cranes for Hong Kong Airport project
The Airport Authority of Hong Kong has awarded a large contract to Gammon for the construction of the third runway facilities at Hong Kong International Airport.
The Spierings cranes will be used for the construction of the tunnels and associated works for an automatic people mover and baggage handling system at Hong Kong International Airport on behalf of Airport Authority Hong Kong. This consists of two 1800 meter long eight-cell tunnel structures for the automatic people mover and baggage handling system systems. The tunnels form a major part of the Three Runway System project at the airport and will ultimately allow travelers to move between the new Third Runway Concourse and the expanded Terminal 2
Initially Gammon was considering using rail mounted tower cranes on the project as the lifts required were in various locations on the site. The Spierings cranes can provide the flexibility they require to move from point to point on the site as required in the erected condition or brought down in about 10 minutes to facilitate longer travel or regular maintenance. The technical question raised by the Gammon engineers were answered to their satisfaction enabling them to place the order for the two Spierings cranes.
Spierings provide a very comprehensive training course at their crane factory in Holland for the Alatas crane engineers who will be responsible for looking after the crane during the 5 year contract period. A stock of emergency spare parts is held by Alatas in Hong Kong to minimize the delivery time of any parts required. A regular service contract has also been agreed to ensure the cranes are available for the almost continuous operation they will be required to perform over the whole contract period.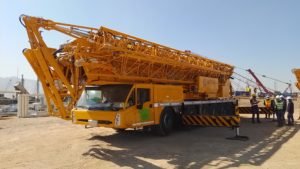 Ian Drysdale-Banks, Director Mobile Crane Sales for Alatas in South East Asia was appointed to introduce Spierings cranes to the region says "This is the first sale of Spierings cranes in the region I'm sure that Gammon's Airport project will be as significant introduction and is already generating interest from companies in Hong Kong."
Florian Philippeau, the General Manager of ALATAS Hong Kong Ltd, says "The sale of Spierings mobile tower cranes into Hong Kong marks a real evolution in the crane market and we thank Gammon and the Airport Authority for giving us the opportunity to prove their great advantages and performances for Hong Kong's projects. Alatas will be here to look after the cranes for the whole project duration to ensure they live up to Gammon's expectations."
Jeroen Kerkhoff, Export Sales representative for Spierings said: "1.5 years ago we started the corporation with Alatas Asia to focus more on the high potential markets in South East Asia. We're proud to deliver the first cranes to this "state of the art" project in Hong Kong. By this project we can show other potential customers the benefits of the Spierings concept. Together with Alatas Hong Kong we can provide the local customers the highest service level which customer are used to from Spierings."
Further information on the Spierings range of mobile tower cranes and the services provided by Alatas in South East Asia can be had by contacting:
Alatas Hong Kong Ltd. 2033 Winning Centre 29 Tai Yau Street, San Po Kong, Kowloon, Hong Kong
Florian Philippeau at +852 2152 8612 or Ian D Banks at +65 98232426
Or on the Spierings web site: www.spieringscranes.com