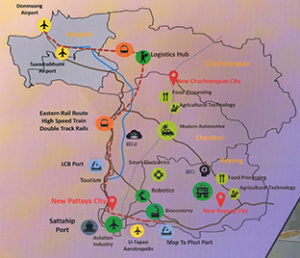 Airport trio key for vast Thai economic venture
Development of U-Tapao International Airport as an 'aerotropolis' is being seen as vital to the success of Thailand's massive Eastern Economic Corridor (EEC) regional development project. U-Tapao will be multi-linked with Bangkok's Suvarnabhumi and Don Muang airports
The airport – not far from Pattaya, which is morphing into a sophisticated MICE, business travel and holiday destination far removed from its old rather sleazy R&R image, currently is a Royal Thai Navy base with limited but expanding civilian domestic and international services.
In its new manifestation it will become a cargo hub, MRO base (Airbus is among those to have signed up for investment), regional and long-haul scheduled and charter flight facility, defence research locale and flight training centre.
The Navy will retain a strong presence and is already well into implementing its own masterplan for development of a large area.
"We know the country requires a new growth engine and U-Tapao is part of that," said Rear Admiral Worapol Tongpricha, director of U-Tapao Airport Authority recently.
A free trade zone will be an important feature of the new U-Tapao; FTZs will evolve at maritime ports in the EEC, too.
Other features include a commercial gateway, medical and education zone, adjacent rail freight facility, a community park and retail and a mixed use area.
It's a huge proposition which will generate its own substantial economic output and also service the region's logistics sector, which is already growing rapidly.
Inter-modal cargo movement will be enhanced by U-Tapao being on the route of a double-tracked freight rail line linking it with two of the EEC ports – including Laem Chang which is Thailand's main facility for containers and motor vehicle exports – and Suvarnabhumi International Airport as well as current and evolving industrial districts.
Laem Chang is to be extended substantially as is Map Ta Phut which handles liquid petroleum products and natural gas. Sattahip, a naval base, is expanding as a cruise ship facility, shipbuilding and oil rig assembly.
U-Tapao International will be a key point on a new motorway grid and a high-speed train route through Bangkok to Suvarnabhumi and Don Muang airports.
Integration of the three airports for cargo and passenger traffic is a significant factor in the EEC concept.
It is, in fact, already well past conceptual stage, thanks largely to the drive of prime minister Prayuth Chan-o-cha and deputy pm Somkid Jatusripitak who is responsible for the country's economic ministries.
Prayuth said recently that the government "is keen to offer a full support to international investors in these target industries who strive to achieve sustainable development goals, bring a better quality of life to the local community and provide continuing opportunities for local SMEs.
"We have qualified workforce in the market, as well as utilised best efforts in mitigating investment obstacles and offering attractive privileges and incentives."
Tourism will be a major factor in EEC growth and the Thailand Convention and Exhibition Bureau www.tceb.or.th – another priority agency under the pm's aegis – has stepped up its efforts to attract more meetings, conventions and exhibitions to the region as well as increasing business travel and high-end incentive reward programs.
It has tagged Pattaya as one of its launch targets for an initiative headlined as 'Thailand: The Kingdom of Bleisure' which extends its long-running and successful CONNECT Thailand program.
The Kingdom of Bleisure launch period also includes Hua Hin and Bangkok. Hua Hin now has a new fast ferry link across the Gulf of Thailand from Bangkok, another service contributing to economic development.
At a recent media briefing in Pattaya – which will gain a nearby new twin city as part of the EEC project – dr Cholachit Vorawangso Virakul, executive director of the EEC Office, explained the EEC was a "flagship project under Thailand's 20-year National Strategy and the Thailand 4.0 Policy".
It covers the three eastern provinces of Rayong, Chonburi and Chachoengsao, with a combined area of 13,285 sq.km.
The EEC will see investments of US$43 billion during the next five years, much of it from outside Thailand.
Under the Thailand 4.0 development strategy the government has identified five existing industries to take further as well as five 'new' industries to target. The former are next-generation automotive, smart electronics, affluent medical and wellness tourism and food innovative. The latter: industry and lifestyle robotics, aerospace, logistics and aviation, biofuel and biochemical, medical services/healthcare.
Most of these have solid potential for air cargo participation directly or otherwise.
Thailand's Eastern Economic Corridor
Source: http://www.impactpub.com.au/micebtn/85-news/btn-news/20689-airport-trio-key-for-vast-thai-economic-venture