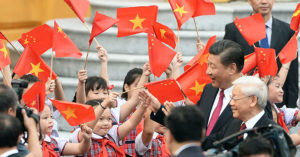 AFRY further strengthens its presence in Vietnam by establishing AFRY Vietnam Limited
AFRY (ÅF Pöyry) is a Swedish engineering, consulting and design company within the fields of energy, industry, infrastructure and information technology. It was formed in 1895 and is one of the biggest Scandinavian consulting giants with headcount close to 17,500 consultants all over the world. AFRY is the new common brand resulting from the merger between ÅF (originally, Aktiebolaget Ångpanneföreningen (The Steam-Boiler Association)) and Pöyry [Wiki].
AFRY has strengthened its presence in the growing Vietnamese consulting engineering market by establishing a new local subsidiary, AFRY Vietnam Limited.
AFRY's long history in Vietnam goes back to its first project in Hanoi in 1978 and the establishment of a Representative Office in 1997. However, it is in the last twenty years that AFRY has grown to be one of the leading providers of international consulting engineering services in Vietnam. With the establishment of the local subsidiary, AFRY is now taking the next step in strengthening its local presence in this growing market. Vietnam is one of the most dynamic consulting engineering markets in Asia due to the significant industrial and commercial development taking place. Vietnam is expected to continue to be one of the fastest growing economies, with further acceleration from the EU free trade agreement, which was finalised by August 1st 2020, as well as from the relocation of industries taking place in Asia.
In Vietnam, AFRY is active in power generation (including renewable wind and solar power), waste-to-energy, LNG, pulp and paper, forestry, automotive, infrastructure, water and wastewater, environmental and management consulting sectors, and its service provision covers the whole project life cycle from early phase development through construction and commissioning, as well as operations support. AFRY currently employs 40 personnel in Vietnam, with staff numbers projected to continue growing in 2020 and 2021.
Contact information
Tomas Camen
Managing Director, AFRY Vietnam Ltd.
Tel. +46 723 700 750
Jacques de Beer
General Director, AFRY Vietnam Ltd.
Tel. +84 904 116 168
https://afry.com/en/offices/vietnam
Did you know?
In Vietnam, AFRY combines the ÅF Consult and Pöyry operations in the country.
Altogether, AFRY has executed over 150 consulting engineering assignments in Vietnam.
In the energy field, AFRY has an overall track record of providing owner's engineering services for construction of over 10,000 MW of thermal, hydro, wind and solar power in Vietnam, representing over 15% of the installed power generation capacity. In addition, AFRY has been Lenders Technical Advisor in 5,000 MW of power generation projects in Vietnam.
In the renewable energy field, AFRY has been involved in over 2,200 MW of solar and 2,000 MW of wind power projects in Vietnam. In addition, AFRY is involved in some of the first waste-to-energy projects in the country.
In urban infrastructure development and engineering, AFRY has completed over 20 assignments with different cities and municipalities throughout Vietnam, particularly in the water/ wastewater/ sanitation and solid waste management sectors providing a range of services from technical support with project and contract management, planning, design review and procurement, construction supervision, operation and maintenance, to capacity building and institutional strengthening.
In the environmental and social sectors, AFRY has undertaken over 10 assignments assessing environmental and social impacts, their monitoring during project implementation, together with social surveys and community development.
AFRY is supporting the first domestic car company of Vietnam in research and development projects for future products.
About AFRY
AFRY is an international engineering, design and advisory company. We support our clients to progress in sustainability and digitalisation.
We are 17,000 devoted experts within the fields of infrastructure, industry and energy, operating across the world to create sustainable solutions for future generations.
Making Future
www.afry.com