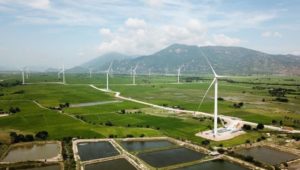 AboitizPower terminates $46m acquisition of Vietnam's Mekong Wind
Philippine-listed electricity giant Aboitiz Power Corp (AboitizPower) announced that its planned acquisition of Vietnam's Mekong Wind has been terminated because some of the conditions of the deal were not met.
"A condition precedent was not delivered, and the completion of the acquisition was not completed by the longstop date under the share purchase agreement," AboitizPower said.
Mekong Wind, a Singapore-incorporated entity, is the owner of Dam Tai Power JCS, which owns and operates the 39.4MW onshore Dam Naiver Wind facility in Ninh Thuan Province, Southern Vietnam.
Commissioned in late 2017, Dam Nai Wind was one of the first wind power projects in Vietnam to commence operations.
AboitizPower, through its subsidiary AboitizPower International, had intended to take over the Vietnamese wind power firm for about $46 million from Armstrong Southeast Asia Clean Energy Fund, a private equity fund managed by clean energy asset manager Armstrong Asset Management (AAM).
AboitizPower said it is in discussions with AAM to revisit the acquisition at a future date.
Aside from the 40-megawatt wind power plant, Singapore-based AAM also has solar-based power plants in Vietnam with a capacity of 69MW and 48MW.
The deal would have set the tone for AboitizPower's expansion in the international market, but the firm said the termination of the transaction has no impact on its existing operations and financial performance.
AboitizPower is the holding company for the Aboitiz Group's investments in power generation, distribution, and retail electricity services.
Together with its partners, AboitizPower generates around 1,200 MW of clean and renewable energy from its portfolio of hydro, geothermal, and solar power plants.
In the Philippines, AboitizPower has been actively acquiring other power firms as part of its domestic expansion. In 2018, it agreed to acquire equity interests in AA Thermal Inc, the thermal energy platform of Ayala Corporation's AC Energy in the Philippines, for $579.2 million.
Source: https://www.dealstreetasia.com/stories/aboitizpower-mekong-wind-vietnam-183140/