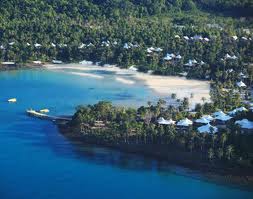 IF YOU want the most memorable breakfast experience in Thailand, it helps to have a head for heights.
If you're a guest at the Soneva Kiri resort, on the verdant island of Koh Kood in the Gulf of Thailand, you can enjoy your breakfast a number of ways. For complete privacy, you can have it delivered to your villa.
For a full-scale selection – everything from fry-ups to Asian omelets, french toast, cold cuts, cheese, cereals, tropical fruit, crepes and croissants – you can head to the dining pavilion. Or, for something completely different, you can enjoy breakfast in the treetops.
Tree pod dining is one of Soneva Kiri's signature experiences. Follow the walkway through the forest to the set of steps leading to the pod; a rattan basket similar to the baskets attached to hot-air balloons.
Breakfast has already been served: a table in the centre of the pod is laden with pastries, bread, preserves, fruit and other treats.
Our host, Khun Lek, invites us to make ourselves comfortable on the cushioned seats in the basket and to fasten our leather seatbelts. Slowly, smoothly, we find ourselves being winched into the treetops. As the basket reaches its final position high in the canopy, leaves rustling around us,we savour what is literally a bird's-eye view across the gulf. Up here, we're completely alone with the birds – and Khun Lek.
Khun Lek isn't about to let Soneva's famous service standards slip, just because we're in the treetops. Attached to a zip line, he manoeuvres elegantly between our basket and the serving platform further along the hill, topping up our drinks and ready to bring refills of everything we need.
Dining amid the treetops is a spectacular way to start the day – and it's what you'd expect from a Soneva property. Owned by the same people who launched the Six Senses spa resorts, the Soneva properties are designed to offer an even higher level of exclusivity and indulgence. The two Maldives properties, Soneva Fushi and Soneva Gili, have long been considered among the most prestigious resorts in the world. Can Soneva Kiri, which opened just over a year ago, match that standard?
Certainly they know how to turn an arrival into an entrance. Koh Kood is an hour's flight from Bangkok; aswe disembark from our international flight in Bangkok, we're met by a Soneva Kiri staffer who whisks us through a private passport control, through baggage collection and customs and on to a smaller terminal, wherewe board the resort's private plane. We land on a neighbouring island, where a boat is waiting to take us the short distance to the resort. A large welcoming party awaits, including our butlers or, as they're referred to at Soneva Kiri, our Ms Fridays – presumably named after the invaluable companion who accompanied Robinson Crusoe on his desert island. There are also Mr Fridays – Soneva is an equal opportunity employer.

The welcome is warm; the accommodation is appropriately sumptuous. Set amid 60 hectares of lush rainforest, the resort consists of 42 sprawling villas plus 21 private residences. The villas offer incredible amounts of space: the elegant one-bedroom beach villas, for instance, have more than 500 square metres of space, including 370 square metres of living space, with outdoor sitting and dining areas, terraces, a dressing area and an outdoor bathroom, plus a 135-square-metre pool that wraps around the villa.
I fell in love with the circular open-air bathroom, surrounded by a garden of plants and including not only a circular tub but also a lounge chair and a massage table for in room treatments.
The villa's private ''beach'', a small strip of sand complete with deckchairs, isn't a great place for a swim – underwater rocks make it difficult to plunge in – but it's a fantastic place to laze away a morning, soothed by the gentle lapping of waves.
Although the resort encourages a ''no news, no shoes'' policy, it's an optional opt-out: those addicted to their technology will be happy with the wireless connection and iPod docking station. Ironically, it's some of the lower-tech features that don't quite make the grade: frustratingly, the oddly positioned bedside lamps means I have to get out of bed to switch them off.
The villas are designed for holing up: once you've had a few dips in the pool, tried out the terraces, maybe treated yourself to a mid-afternoon in-room massage and a beverage of choice from the well-stocked fridge, you'll find it's almost time for dinner. However, if you're more in the mood for exploring, there's plenty to discover.
Each villa comes with its own electric buggy, the best way to explore the resort. (If you're not comfortable behind the wheel, Mr or Ms Friday will drive you wherever you need to go.) Whichever path you take through the verdant vegetation, you'll find a new way to pamper yourself. One path takes you to the spa – where the blissful massages leave you not only completely relaxed but walking taller and straighter – another to the tennis court. Another path leads to the resort's main beach, where you can while away an afternoon alternately plunging into the aquamarine waters and lazing on a deckchair or beachside beds, with staff delivering anything that takes your fancy, from daiquiris and pizzas to a kayak.
A range of excursions lets you explore the island – from gourmet picnics by a waterfall to a visit to the fishermen's village – and beyond.
(The snorkelling trip, to a crystal clear cove where fish swarm like confetti, is a highlight.) For children, there's an adult-free kids' club: children have a special entry code to the club, which is shaped like a flying saucer; parents are only allowed in when accompanied by children. There are areas for reading, craft activities and other kinds of games, while a separate sleep pod awaits tired kids who need a break.
And for your inner child, there's an array of treats including my personal piece of paradise: the chocolate room. In this air-conditioned wonderland for chocolate lovers, the kitchen staff conjure up an extraordinary array of treats – pralines, macaroons, mousse, fondues, cold chocolate drinks, even slabs of dark, milk and white chocolate. Guests are encouraged to help themselves to whatever takes their fancy, all day, every day. No need to ask permission: just go for it.
And if that's not enough of a sugar rush, right next door is the ice-cream parlour; 60home-made ice-creams and sorbets, with flavours ranging from ginger and panacotta to strawberry cheesecake, pandanus and Thai tea. Bliss.
The writer travelled courtesy of Soneva Kiri.
Trip notes
Where Koh Kood, Thailand. +66 (0) 3961 9800, sixsenses.com/soneva-kiri
How much A beach villa suite starts from $US1520 ($1395) a a night ($1850 including tax and service charges). A three-night Island Romance package, starting from $US7547 (including tax and service charges), includes accommodation, round-trip transfers by plane between the airport and resort for two guests, daily breakfast, a bespoke dinner experience in the treetop Dining Pod and a bottle of champagne on arrival.
Top marks The dining area sunk into the middle of a swimming pool; stargazing in the resort's observatory.
Black mark The design of the hill villas is disappointing: neither the pool nor the outdoor tub is appealing and it's a long way to the toilet in the dark.
Don't miss The open-air cinema: lie back on padded benches and watch the DVD of your choice while staff serve freshly popped corn.
Source: http://www.smh.com.au/travel/appetites-for-heights-20110505-1e943.html